The Anne Tanenbaum Centre for Jewish Studies places a heavy focus on the student experience and strives to help every individual attain success in their studies by providing generous opportunities for academic and professional development. The undergraduate program at ATCJS is rich with academic diversity, which allows students to pursue their interest by taking courses with more than 20 partnering departments and programs at the University of Toronto while gaining foundational knowledge about Jewish Studies. The Centre also encourages and provides generous support to students who wish to gain an international perspective, whether through exchange programs or individual research opportunities. With such a variety of courses and valuable learning opportunities, ATCJS is a place where undergraduate students experience personal growth and gain all-rounded knowledge, about Jewish Studies and also about the communities and the world around them.
Find out more about the program requirements, courses, and other students' testimonies about their experience with ATCJS. 
Find out more information on opportunities for international studies at ATCJS.
Why Choose Jewish Studies?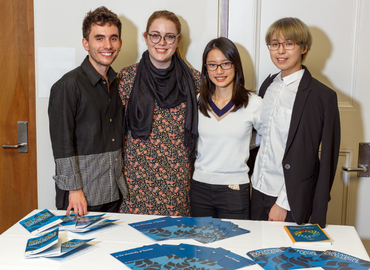 A small and close-knit program, Jewish Studies offers:
Small classes with lots of interaction with professors and other students
High-quality academic advising from the Undergraduate Director
Opportunities to get into classes in other departments that are otherwise restricted
Numerous scholarship opportunities
Several work-study positions with teams of other students on Centre activities and events
Financial support to study abroad, in Israel or elsewhere
Renowned faculty members who are leaders in their fields
A vibrant student life including many events and activities
A truly welcoming atmosphere and meeting space
What Can I Do With a Degree in Jewish Studies?
When you follow your interests, you learn more deeply. A Major or Minor in Jewish Studies helps you stand out from the pack when you apply for jobs and provides a strong foundation for further studies in fields such as:
Law
Graduate studies in liberal arts and social sciences
International relations and public policy
Education
Social Work